After logging in, you can choose from a variety of: 
Infographic, Report, Dashboard, and Facebook post templates (there are also several more canvas size presets available for Twitter, Instagram, YouTube, Pinterest, LinkedIn posts etc.)
Single chart or map project types 
Note:
 projects will allow you to layer objects, place them freely on the canvas, add pages, undo action history. In single Chart and Map projects, these options are not available. Single object projects have a quick editor that allows you to create projects within a few minutes.

To create a template project type: 
❶ Click to choose any of the available template project types.   
❷ Pick a blank canvas, a Free or a Pro template (this is a premium feature and can be unlocked with any of the subscriptions). 
Pro tip:
The snippets give you an overview of the color scheme, font and other design elements in a template.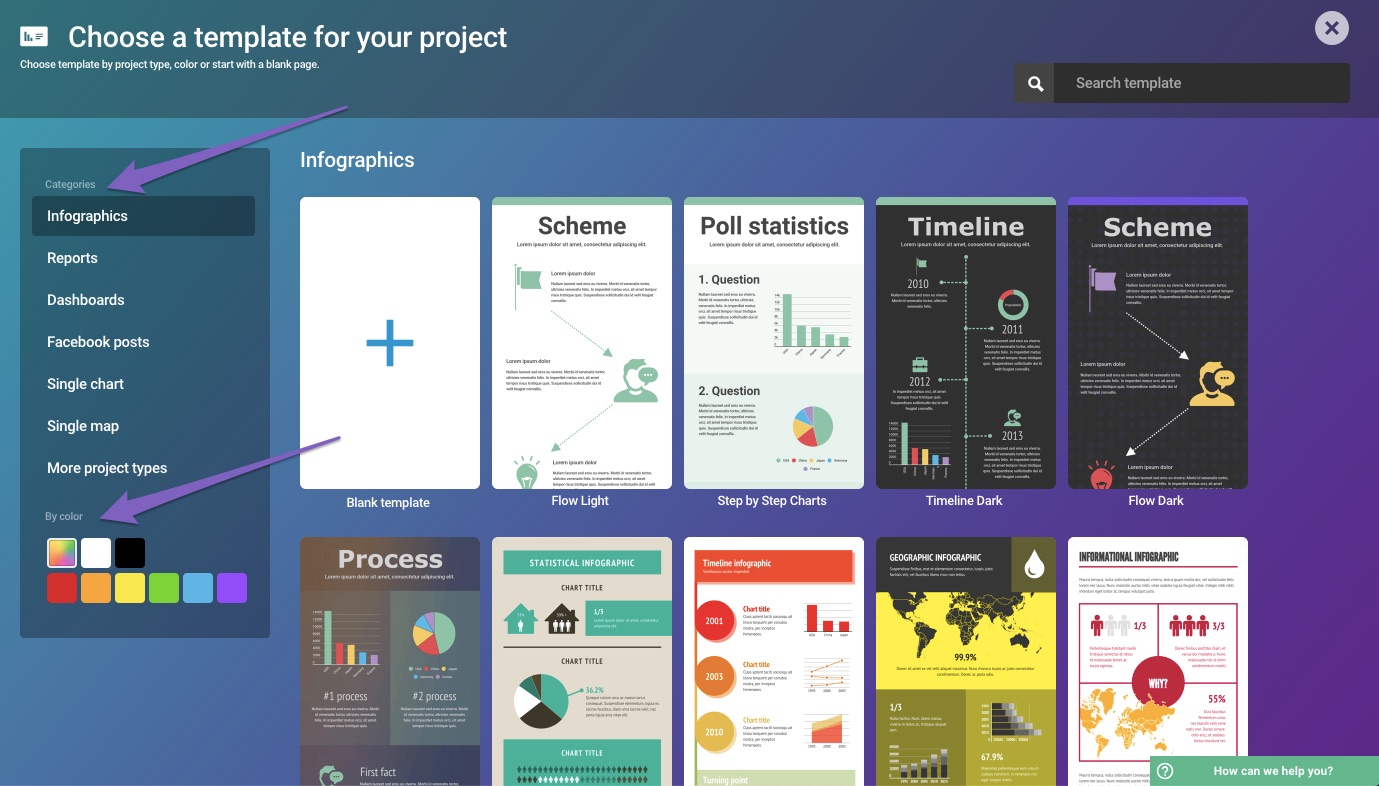 ❸ Choose a project name (you can change the name later on, in the editor). 
For more on how to add new objects, you can read the article about Adding, moving and layering objects.
To create a single chart: 
❶ Start a new Chart project. 
❷ Choose a project name (you can change the name later on, in the editor). 
❸ Browse through the chart library on the left side panel or use the search bar to look up a chart. 
The available charts are: 
Line
Bar
Stacked bar
Grouped bar
Radial
Column
Stacked column
Stacked grouped
Gantt
Pie
Doughnut
Irregular
Semicircle
Column & line
Line & line
Grouped column & line
Stacked column & line
Area
Stacked area
100% stacked area
Stream area
Stepped
To understand how to format data you wish to insert in a chart, read the article about Adding data to a chart.