When presenting your content to the world, it is crucial to stand out among others and be recognizable. Subscribers of our paid plans have the option of adding a custom style to their projects by uploading images and graphics, creating a custom color palette and uploading their own fonts.
On top of that, subscribers of the Enterprise plan can customize their own branded public profile to their liking, as well as use default themes on all projects.
To enable this feature, click on the Branding tab in the left-side panel and click on Enable branding.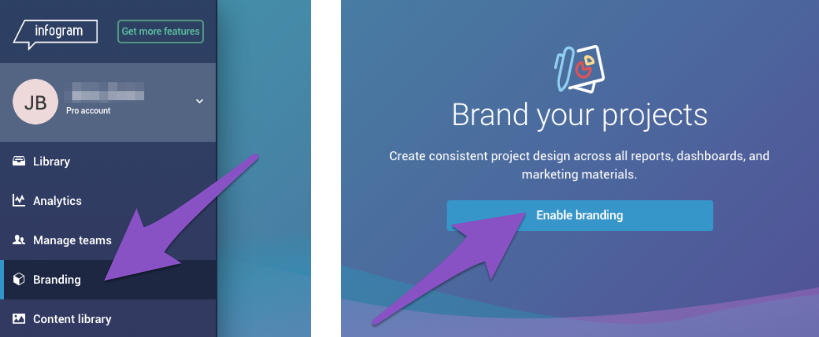 Note:
In team accounts, only the administrator can enable the feature for team members.
Images, graphics library, and custom style

Who can use this feature?
Pro

,

Business

,

Team

, and

Enterprise

users
Check out our pricing page for additional information
Uploading images
---
Upload high-quality images associated with your brand. You will be able to use these in your projects by accessing them via the Add graphics option in the editor.
Click on the

Upload

button under Images.

Choose the file you wish to upload from your computer and click

Open

.
There are no restrictions regarding the size of the brand image, as it will be automatically resized. We support JPG, PNG, and SVG file formats. Keep in mind that SVG files will provide the highest quality outcome.
Uploading graphics
---
You can also use your own graphics to make your projects more authentic and original. Upload JPG and PNG files and use them within your projects.
Click on the

Upload

button in the Graphics library tab.

Choose the graphic you wish to upload from your computer and click

Open

.
When working in the editor, you will be able to add both images and graphics to your project by clicking on

Add graphics

on the left side toolbar and selecting them under the

Branding

tab.
Customizing colors and adding fonts
---
Keep the style of your brand consistent throughout all of your projects by using your own colors and uploading custom fonts.
To add a color, click the

+ icon under Colors and select the color you want to use. You can also enter specific hex color codes.
After adding colors here, all of them can be found in the settings panel of the editor. You can use them on your charts, maps, text objects, shapes, icons, and page backgrounds.
To upload a font, click on

Upload fonts and select the font you wish to upload from your computer. Infogram supports OTF, TTF, WOFF, and WOFF2 files

.
You can use the fonts you've uploaded in all text objects that you add to your projects. Find them in the font drop-down menu of the settings panel.
Branded public profile and a default theme

Who can use this feature?
Enterprise

users
Check out our pricing page for additional information
Customizing your branded public profile
---
A public profile is a page hosted by Infogram where others can view all of your publicly shared projects. If you share project URLs with your audience, they will see this page. Add a personal touch to it!
Set up the colors of your team profile: select the background color of the page, set the color of the header, and choose the

color of the footer background

.
Managing your public profile settings
---
After you've uploaded one or more images to your page, select the one you wish to use as your logo from the drop-down menu. The logo will be displayed on your team profile, and you can use it in projects.

You can also customize the domain of your team profile. Click on the text box below

Custom domain and type in your company name or any other name that you would like to use for sharing your projects. E.g. if you type in "companyname", the domain will look like

https://companyname.infogram.com

.

It is possible to make your profile hidden or public, simply select one of the options under

Profile status

. If you'll make your profile hidden, no one will be able to view the projects on your page.

You can also give your page viewers different permissions. Choose whether you want your audience to be able to share or download your projects, as well as view them fullscreen.
Selecting a default theme
---
If you wish to use a default theme on all of your projects, you can make it happen by selecting one of the themes available under

Default theme

and ticking the box next to

Use default theme for all templates

. Now, when starting any new template project, the respective theme will be automatically set as default.

Subscribers of the Enterprise plan can get access to a custom design theme created by our team.