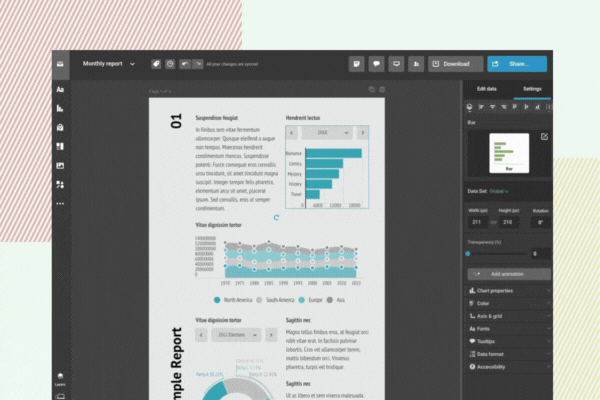 Your charts and maps are about to get a dazzling makeover as you unleash your creativity and take full control over the visual aesthetics of your content. With this new enhancement, you can effortlessly customize the background and text colors of the tabs, adding life and flair to your data visualizations. The possibilities for creative data representation are endless, and here's how you can use this feature to your advantage:

Elevate Visual Appeal: Infuse your charts and maps with vibrant colors that resonate with your brand's identity. Tailor your visuals to leave a lasting impression on your audience.
Seamless Branding: Consistency is key! Match your tab colors to your brand's style guide, creating a cohesive and professional look across all your data projects.
Emphasize Information: Use contrasting colors to highlight important data points or categories. This approach makes it easier for viewers to quickly identify key insights at a glance.
Intuitive Interface: Our user-friendly customization options make it a breeze to adjust tab backgrounds and text colors. This saves you valuable time that you can use to focus on presenting your data in the best possible way.
How to use this feature:
Access your charts and maps: Open your desired chart or map that you want to customize.
Navigate to the tab settings: Look for the tab settings in the chart or map editor, where you can find options to modify the background and text colors.
Customize: Pick your preferred colors and see your charts and maps transform into visually engaging masterpieces.