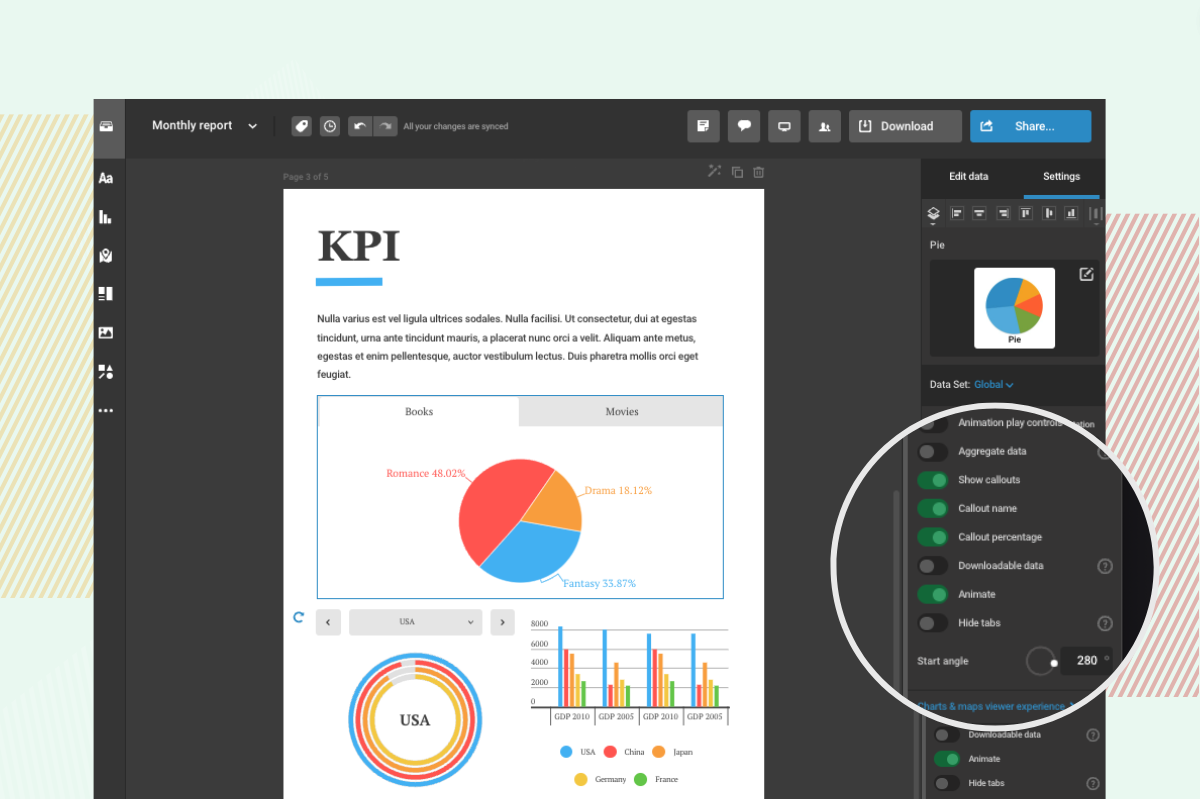 Gone are the days of standard pie charts with fixed angles. With this new enhancement, you now have the power to set the starting angle for pie-based charts, including pies, doughnuts, and irregular pies. The possibilities for creative data representation are endless, and here's how you can use this feature to your advantage:
Enhanced Customization: Tailor your pie charts to fit your unique storytelling style. With the freedom to choose the starting angle, you can create visuals that align perfectly with your brand or presentation theme.
Improved Precision: Ensure accuracy in conveying data insights by precisely controlling the starting angle of your pie-based charts. Accurate visualization empowers your audience to make informed interpretations of the data.
Unleash Creativity: Get inspired and experiment with various angles to come up with captivating visualizations that command attention and engage your viewers.
How to use this feature:
Select a pie-based chart: Choose a pie, doughnut, or irregular pie chart as the foundation of your data visualization.
Customize the starting angle: With a simple adjustment, set the starting angle to your preferred position, making it easier to highlight specific data points or create a visually appealing effect.
Fine-tune your design: Play around with different angles until you achieve the perfect representation of your data.
Benefits at a glance:
Stand out: Create eye-catching visuals that set your data presentations apart from the ordinary.
Increase engagement: Captivate your audience with visually appealing charts that draw their attention and keep them immersed in your data story.
Express creativity: Embrace creativity and add a personal touch to your data visualizations, making them uniquely yours.