Speed up your workflow and ease the design process by adding premade elements to your projects. With elements, you don't have to worry about proper object arrangement, and you can save time on content creation.
You can choose elements from ten different categories: timelines, notes, image blocks, callouts, icon blocks, flowcharts, galleries, diagrams, lists, and plans.
Adding elements to the canvas
---
Head over to the toolbar on the left and click on

Add element

.

Look for something specific by using the search bar at the top or pick one of the categories.

When you've found an element you'd like to use, click on it or drag and drop it onto the canvas.

Editing the elements
---
All elements are groups of separate objects. You can edit the whole group together or customize individual parts of the element.
To resize the element, hover over one of its corners and drag it inwards or outwards.

If you wish to customize a specific part of the element, double click on it and introduce the changes in the settings panel on the right.

If you'd like to ungroup the element, go to the settings panel on the right and click Ungroup element.

When to use each element?
---
Timelines

If you'd like to visualize a list of events or steps to be carried out within a larger process, timelines will do the trick! There are various timelines with numbers, dates, icons, etc.
Notes

Use a note if you'd like to add a stylized message for your audience or colleagues. In this category, you'll find notes of various shapes, colors, and sizes.
Image blocks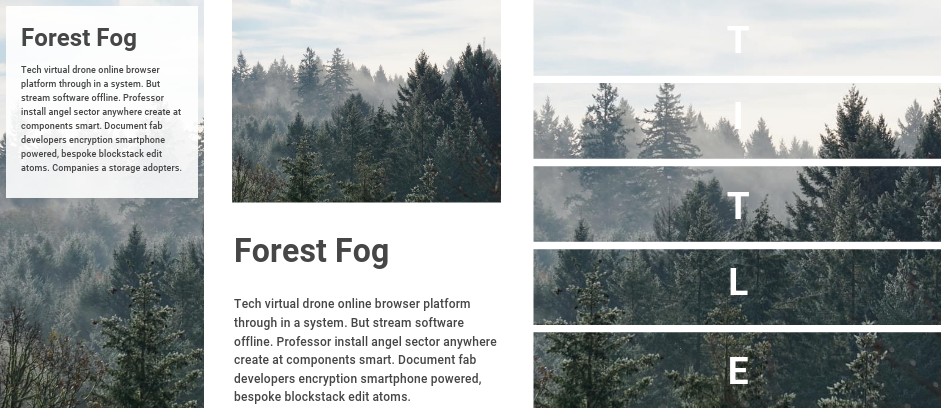 Image blocks are groups of images and text objects—they're placed either side-by-side, one above the other, or one on top of the other. These are great for displaying an image and telling the story behind it!
Callouts

With callouts, you can add some extra content to your project without taking up space on the canvas. Have a look at the article on adding callouts to your canvas to learn more.
Icon blocks

All of the items in this category include icons in pairs with text elements or images. With icon blocks, you can place some additional emphasis on the content that you've added.
Flowcharts

Flowcharts are great for visualizing processes or workflows. For example, you can visualize a step-by-step approach to solving a specific task or display the hierarchy of a team.
Galleries

Would you like to create a gallery of your favorite images? Look no further! Pick a gallery, add your pics, and customize them to your liking. You can find out more about image customization in the Graphics and images subsection.
Diagrams

Pick one of the available diagrams if you'd like to visually explain how something works, or how parts of a whole are related to one another. You'll find Venn diagrams, pie charts, bar charts, and more.
Lists

Various ordered, unordered, and descriptive lists. Pick one and add your information.
Plans

Similar to lists and timelines, plans will help you structure the steps needed to achieve a specific result.
To learn more about the different customization options that you can use on elements and in Infogram in general, browse the articles in the Create & Customize section of our knowledge base.