After uploading your images to Infogram, it is very convenient to manage and sort them within the image library. This article provides a summary of all the options.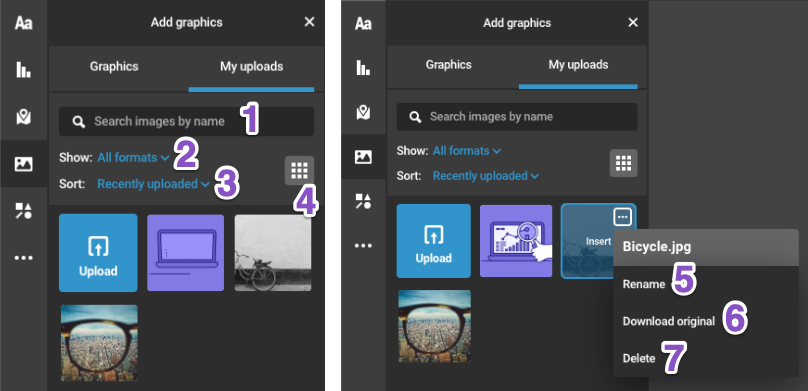 Search images by name. To locate images in the library faster, you can search for them. Type the name of the image you're looking for in the search bar, and it will appear in the library.
Sort images by format. To do so, open the dropdown menu next to Show: and choose whether you wish to view all formats, JPG files, PNG files, GIF files, or SVG files.
Sort images by recently uploaded or recently used. You can do this by choosing the setting you prefer in the dropdown menu next to Sort.
View your images as thumbnails or as a list by clicking on the respective icon.
Rename your images. After you've uploaded an image, hover over the three dots icon on its thumbnail. Click on Rename, then enter the text and click on Rename once again.
Download your images. The image library also offers the option to download images. Hover over the three dots icon on an image thumbnail and click on Download original.
Delete images. To delete an image from the library, hover over the three dots icon of a project thumbnail and click Delete. When you delete an image, it will remain present in all of the projects, however, it will not be possible to use it in new ones.