If you don't plan on using the paid Infogram features anymore or wish to stop the subscription from automatically renewing on the next billing cycle, you can cancel your license at any time.
Important: All subscriptions are recurring and renew automatically each month or year. Infogram has a no refund policy you can read more about in our Terms of Use. 
To cancel your subscription: 
❶ Click on your name in the top right corner of your Library, then select Billing.
❷ Click the Manage subscription link. A form will appear with several options. Choose Cancel my subscription.
❸ Choose the option that best describes why you wish to unsubscribe, insert your feedback, and confirm by clicking Cancel my subscription.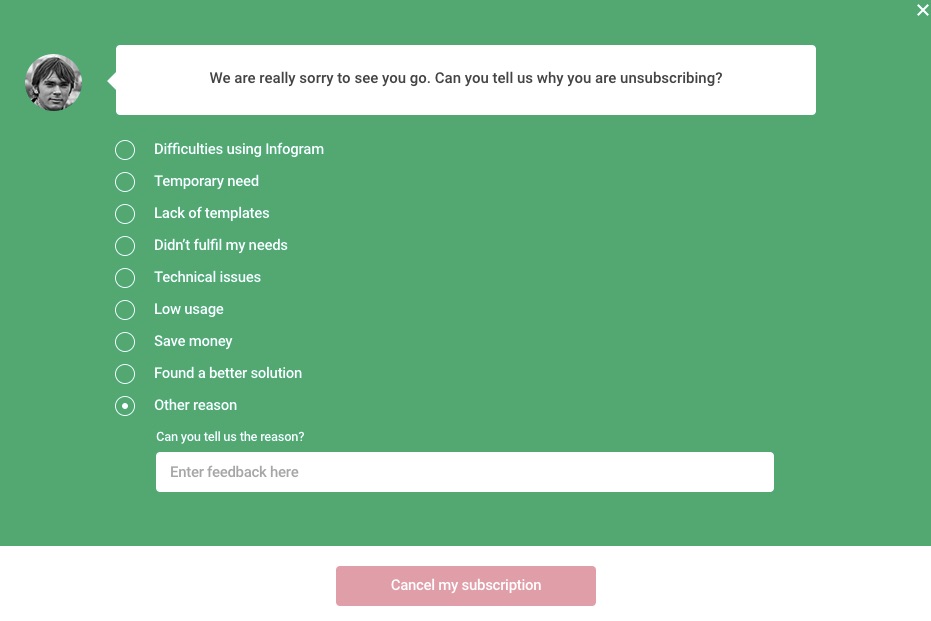 Your subscription is now canceled and will be valid until the end of the billing cycle. You can check the exact date under Plan and period. All your card data will be deleted from your account at the end of the billing cycle. 
What will happen after the subscription ends? 
After the subscription expires, you will be using the Basic, free plan. All your content created while using the Premium plan will remain as it is, with all the premium features, except for one: the Infogram watermark will reappear on all template project types, in the bottom right corner of the project canvas.
With the Basic plan, the Library size will shrink to 10 projects. All projects exceeding this limit will be locked and inaccessible for edits.