After purchasing your subscription you can head over to the billing page to:
check your subscription status and the next billing date

change your payment details

access, edit, and download your invoices
If you cannot find your subscription in the current account, it might be located in a different one. Some Infogram users have multiple accounts. To look it up, try logging in with different email/password combinations or social logins.
Accessing your billing details
---
Click the profile button in the top right corner of your Library page, then click on Billing.
Here, you can check the type of subscription you have purchased, the next billing date, the number of projects in your library, the number of images uploaded to the image gallery, and the subscription expiration date.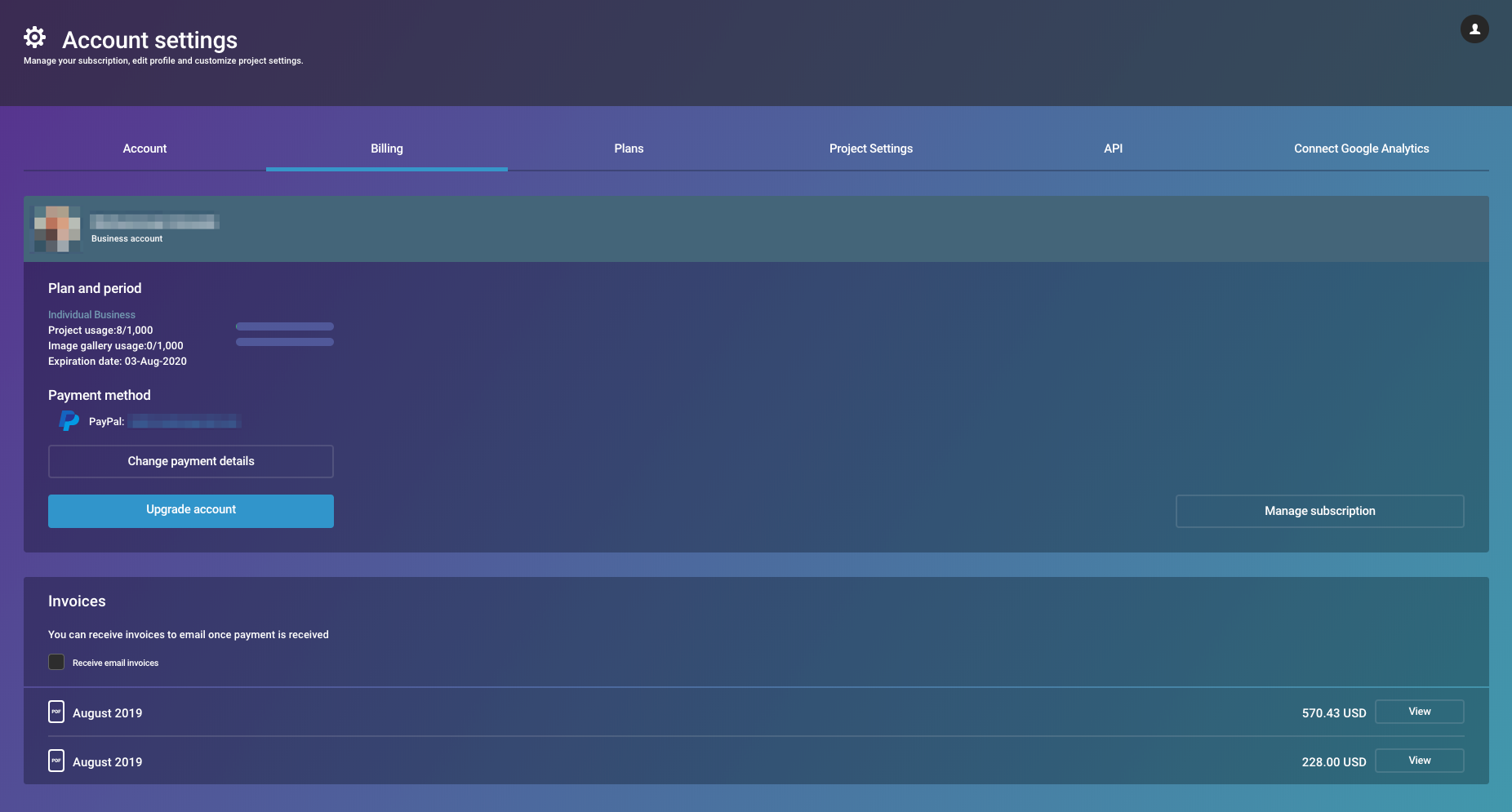 Changing payment details
---
Click on the

Change payment details

button.

Choose a payment method: credit card or Paypal.

Fill out the empty fields: card number, security code, cardholder name, expiry date, or provide your Paypal account email address.

Note:

The payment methods you can use to purchase an Infogram subscription are Visa, MasterCard, American Express, and PayPal.

If needed, enter company details you wish to appear on the invoice and for a VAT reduction to be applied: specify a VAT number, the company name, and address.

Note:

Any changes you make in your payment details will apply to the next billing cycle. The information linked to the current billing cycle cannot be altered.
Accessing and editing your invoices
---
You can access all your invoices in the Billing history section of the billing page. To open an invoice, simply click on View.
To edit information in your invoices, follow the steps above on how to change the payment details.
Downloading an invoice
---
Choose the invoice you wish to open and save by clicking on View.
Right-click anywhere on the invoice. Choose the Print option.
In print preview, click on the Open PDF in preview option.
Go to File and Export as PDF.