Manage your Infogram account settings by following the simple steps displayed below.
Note:
If you are part of a Team account, keep in mind that you'll be able to manage your personal settings only when in your personal account
.
Update your profile information and email address
---
Open your Account settings page.
Insert your First name, Last name, Username, and Email address. Click Save settings.
Note:
The
Username
will appear in the link to your public profile, https://infogram.com/(your username). The
Email address
will be used to keep you up to date on all Infogram news. It will also appear on the invoice if you have purchased a subscription
.
Change your profile image
---
Open your Account settings page.
To change your profile image, click on Upload image and choose a file from your computer. Clear image to use an automatically generated logo with your initials.
When finished, confirm these changes with your password and click Save Settings.
Change your password
---
Open your Account settings page.

Enter your current password.

Choose a new password that is at least 8 characters long.

Re-enter the new password, then click Update password.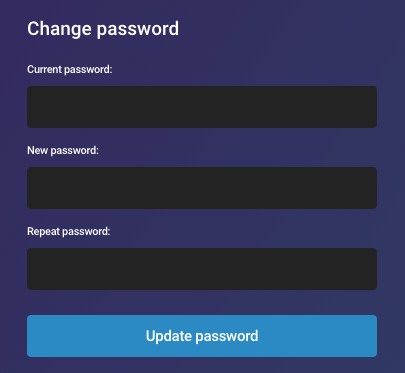 Set up your account privacy settings
---
The option to hide your account and disable your Infogram public profile is available for users with a Business plan or above. To access the link to your public Infogram profile, click on your name in the top right corner of your Library, or replace the username in this link with yours: www.infogram.com/(your username).

Merge accounts
---
Learn how to merge accounts in the article about Connecting your Facebook, Google, Twitter, and LinkedIn accounts.
Delete your account
---
You can read detailed instructions on how to delete your account in the article about Deleting your account.