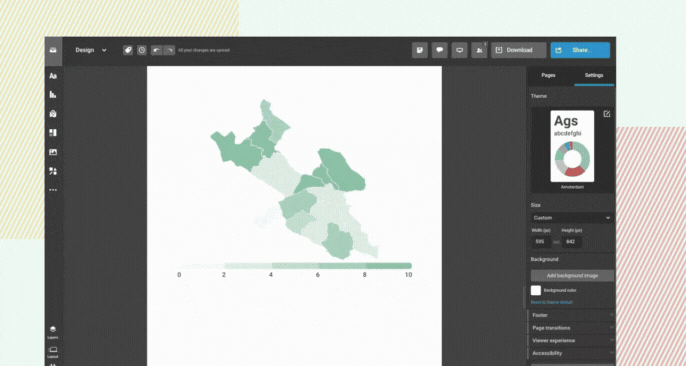 Data visualization enthusiasts, educators, marketers, and professionals rely on Infogram for its ability to transfrom data into engaging and insightful visualizations. Now, we're introducing four new map tile layers to help you enhance your maps, overcome design challenges, and create a more compelling visual storytelling experience.
The types of map tile layers
1. Alidade Smooth and Alidade Smooth Dark
It can be challenging to achieve a polished and professional look for maps. Finding the right balance between aesthetics and functionality is tricky. Alidade Smooth and Alidade Smooth Dark tile layers offer sleek, sophisticated map designs that strike the perfect balance between style and clarity. They are ideal for projects where elegance and readability are key.
2. Outdoors
Infogram users often need to create maps that highlight natural landscapes, outdoor activities, or geographic features. The Outdoors tile layer provides a visually stunning representation of natural environments, making it the perfect choice for showcasing hiking trails, national parks, outdoor events, and more. It adds a touch of adventure and vibrancy to maps.
3. OSM Bright
Creating vibrant, data-rich maps can be challenging when you're limited to standard map styles. OSM Bright brings a burst of color and energy to your maps, making data points and geographic features pop. Whether you're presenting market data, demographics, or any other information, this tile layer adds a dynamic visual element to your projects.
How to elevate your maps
Here's how to incorporate the four map tile layers into your Infogram projects:
1. Open your map project or create a new one.
2. Access the map customization options.
3. Select your preferred tile layer from the options.
4. Customize your map further to match your project's style and message.
With these simple steps, you can instantly transform your maps and bring a fresh perspective to your data visualization projects.