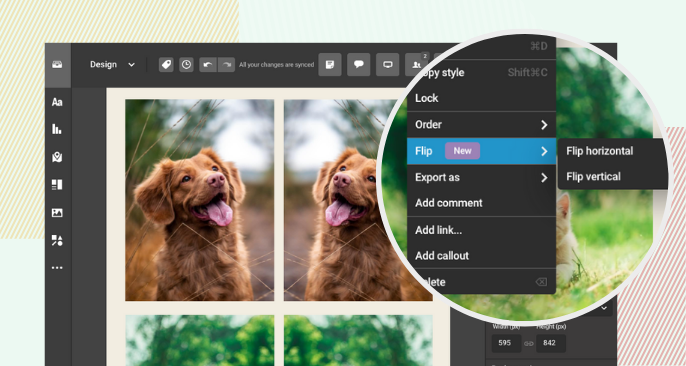 Infogram is a trusted tool for designers, data visualization enthusiasts, educators, and professionals, helping them bring their data to life. With the image-flipping feature, you can now improve your projects by using mirrored and flipped images, giving you more creative options and helping with common design issues.
Unlock the potential of effortless image flipping
1. Embrace design flexibility
When creating data visualization projects, one common challenge we all encounter is selecting the right visual elements. Effortless image flipping introduces a fresh layer of design flexibility, allowing you to mirror and flip images. This feature encourages creative experimentation, making it easy to achieve stunning visual effects.
2. Enhance visual appeal
Creating visually appealing data visualizations and projects often demands symmetry and balance. With the ability to flip images horizontally or vertically, you can attain harmony in your designs, transforming your content into something more engaging and aesthetically pleasing.
3. Optimize workflow
When designing data visualizations, efficiency is key. Effortless image flipping streamlines the design process, eliminating the need for complex image editing software. Now, you can easily flip your image with a simple click, saving valuable time and resources.
How to make the most of image flipping
Flipping your image in Infogram is simple:
Select the image you want to flip.
Access the image editing feature with a right-click of your mouse.
Choose whether to flip the image horizontally or vertically.
Witness the transformation and fine-tune it as necessary.
By following these steps, you can effortlessly improve your designs and elevate your data visualization projects.