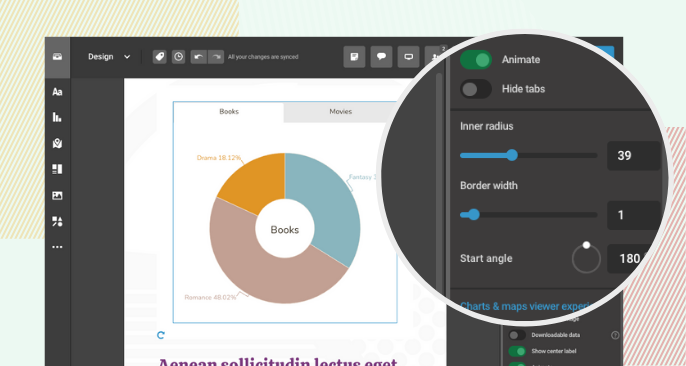 Data visualization enthusiasts, educators, marketers, and professionals alike rely on Infogram to communicate complex data with clarity and impact. With core customization for doughnut charts, our users can now create visually appealing charts by adjusting the size of the central hole, allowing for more creative and engaging data representations.
The power of core customization
1. Versatile design options
Traditionally, doughnut charts come with a standard-sized central hole. Infogram's core customization feature lets users break free from these constraints. You can now adjust the size of the central hole to create charts that range from a thin ring to a broad circle, tailoring the visual representation to suit your needs.
2. Enhanced visual impact
The central hole in a doughnut chart plays a vital role in directing attention to the data. By customizing the core, you can emphasize key information, draw focus to specific data points, or simply enhance the chart's aesthetic appeal. The result is a more visually impactful representation of your data.
3. Consistency across projects
Whether you're designing infographics, presentations, reports, dashboards, or any other data visualization project, maintaining a consistent design approach is crucial. Core customization ensures that your doughnut charts align seamlessly with your project's overall style, ensuring a polished and professional appearance.
How to customize the core
Customizing the doughnut chart core in Infogram is easy. Here's how you can do it:
Create or select a doughnut chart in your project.
Access the pie chart settings within the chart customization options.
Adjust the size of the central hole to your desired specifications.
Fine-tune the appearance of the chart to match your project's aesthetics.
With these simple steps, you can effortlessly create doughnut charts that stand out and effectively present your data.
Break free from standard design conventions
Infogram's doughnut chart core customization feature empowers users to break free from standard design conventions and create visually captivating and effective data visualizations. Whether you're working on infographics, presentations, reports, dashboards, or any other data-driven project, this feature will improve the way you present your data.