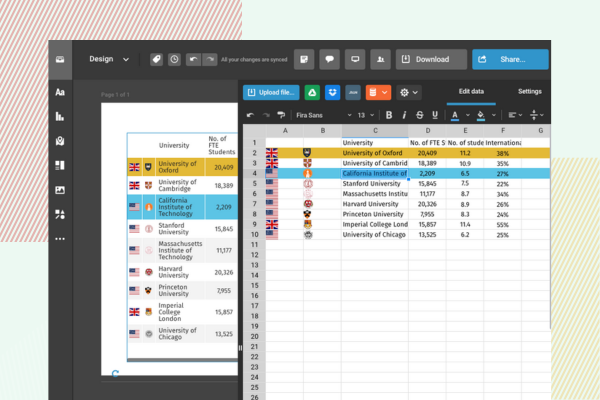 We're excited to share our recent upgrades to table charts at Infogram – the introduction of in-cell editing features for tables! This upgrade will change the way you work with your data, giving you the tools to create more focused, insightful, and visually appealing data narratives.
At Infogram, we're committed to pushing the boundaries of data visualization, and our newest release is no exception. Our development team has worked tirelessly to transform the core engine that powers our tables. This transformation is the foundation of a feature set that promises to reshape your data storytelling experience.
The new in-cell editing options bring a range of tools designed to give you control over your data presentation:
Customized Colors: Choose text and background colors that match your brand or story, giving your data a personalized touch.
Precise Alignment: Achieve perfect alignment and text formatting, ensuring your tables have a polished and professional appearance.
Effortless Consistency: Easily replicate cell styles across your table, maintaining a consistent look without any hassle.
Undo and Redo: Feel free to experiment – our undo and redo options provide a stress-free editing experience.
Infogram's table chart has always been a versatile tool, and with this release, it becomes a dynamic canvas for your insights. Whether you're a data analyst, marketer, educator, or anyone looking to make data engaging, this feature is your pathway to unlocking your data narratives' full potential. Ready to take your data narratives to the next level? Log in to your Infogram account today and explore the powerful in-cell editing options for tables. Unleash your creativity, reshape your insights, and capture your audience's attention in new and exciting ways.